Rule the Galaxy with Twitch and #SWTORPrime
Verfasst:
Sa 27. Mai 2017, 22:16
Article | Star Wars: The Old Republic
--------
Post at: Di 2. Mai 2017, 13:00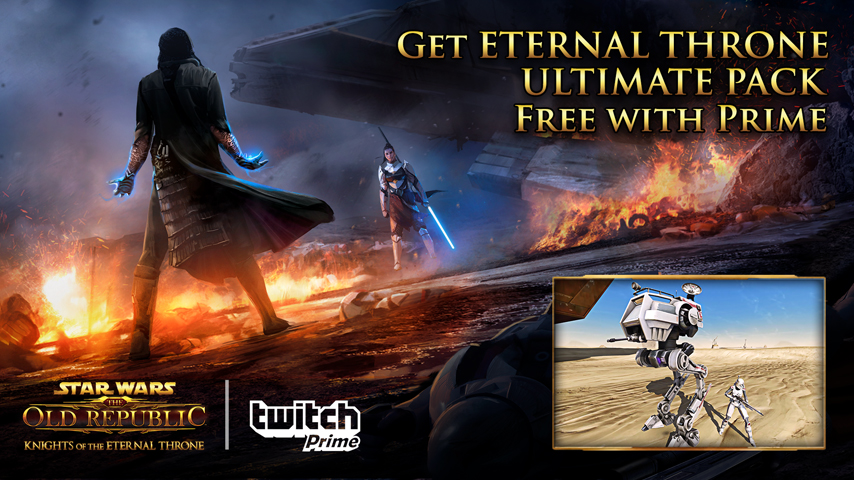 In celebration of May the 4th, we've teamed up with our friends at Twitch
Prime
for an exciting new promotion!
Now through May 15, 2017, Twitch
Prime
members can get the Star Wars™: The Old Republic™ Eternal Throne Ultimate Pack and rule the galaxy in the Knights of the Eternal Throne expansion story with a free Outlander Character and the new AC-PT Walker Mount!
Play at the center of your own action-packed Star Wars™ story in a galaxy far, far away:
Get all nine chapters of the latest Star Wars™: The Old Republic™- Knights of the Eternal Throne expansion

and face one of the most powerful families in Star Wars™.


Jump right into the action with an Outlander Character Token

and become a Level 65 Outlander, a veteran of the Great Galactic War.


Intimidate your enemies inside your own AC-PT (Alliance Combat Patrol Transport) Walker Mount

and tower over enemies as you traverse dangerous terrains across the galaxy.

Plus, celebrate Star Wars day with a new Astromech Droid, Double XP, special in-game offers and more!
Check out live gameplay on SWTOR's official Twitch channel and meet our community streamers!
FIND OUT MORE:
www.swtor.com/twitch-prime
See the FAQs for more details
Read more...